Archive for July, 2011
Med-Label, Inc. is celebrating its 20 year anniversary in providing labeling solutions to the medical marketplace. The company is a leader in offering a complete line of sterilization load control, bar coding, piggyback, patient charge and tray tracking labels for central sterile supply, dental, food, pharmacy, receiving, clinical lab, emergency room and operating room departments within hospitals. Med-Label offers 3M styled labels guns manufactured by Meto that dispense paper labels as well as synthetic "ASP" approved labels for steam, gas and sterrad sterilizers. The company also supports Zebra, Datamax, and Intermec printers with label and ribbon supplies for tray tracking systems such as Abacus, Aesculap, Alex Gold, Cardinal Impress, Censitrac, Getinge T-DOC, Microsystems and Readytracker. Med-Label Inc.'s customer service, technical support and label gun on site repair center is available for one on one customer support from 8:30 A.M. to 4 P.M.; Monday – Friday. For more information call Med-Label's toll free phone number 1-800-522-3510 or visit online at www.medlabel.com.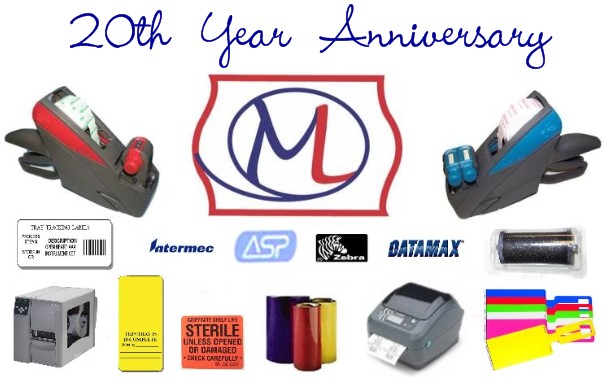 JULY 01, 2011 Med-Label, Inc. added "Steritags", a new S1 product to its medical product offering.
Steritags, a synthetic hang tag, are used to label the handles of different trays in the central supply department of hospitals as to the importance of the tray as well as the type and scope of the surgeries being done. Barcode tray tracking labels can also be applied to the steritags for the convenience of displaying critical information. Steritags are also permanent marker friendly so important handwritten last minute information can be added and kept with the trays through the different departments where the trays are being used. Steritags are machine washable, sterilizer friendly and reusable. They are "ASP" approved for use in all sterrad sterilizers. Steritags are available in 6 different colors: white, red, blue, green, yellow and pink. Steritags are a cost effective way to highlight and transfer critical information on the outside of hospital trays.
Steripockets is an add on to the to the steritag product launch that lets the count sheets for the trays be transported with the trays, in an easy, convenient and safe manor outside of the trays. By using steripockets with the trays a hospital eliminates any risk of contaminating the contents of their trays with ink that is contained on the count sheets when they are contained inside the trays. Steripockets are reuseable, "ASP" as well as steam and sterrad acceptable and a cost effective way to protect the sterility of the instruments loaded in the trays. Steripockets are available in white and yellow. Med-Label Inc., for a limited time period, is offering free samples to the hospital marketplace to test. Please call us at 1-800-522-3510 and request your free no charge test samples for trial or visit us at www.medlabel.com to obtain more information about the steritag and steripocket product offering.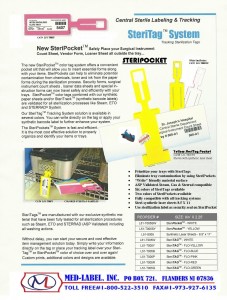 Please stay posted for information regarding the label industry. Thank you!